Travel day had arrived, well part one of our travel, which was home, near Southampton, to Folkestone. We got to Folkestone and the Premier Inn we had booked about 8pm and decided to use Deliveroo to order some food.
The panic then kicked in, for me at least. I asked Beans what we needed to do to check into the Eurotunnel, he said he didn't know so got out the pack sent through from Disney. Inside were luggage tags and a book, no paper work. On reading through the book it says about checking in online for Eurotunnel and inputting your Advance Passenger Information(API). By this time it was 10pm and both Disney and Eurotunnel were closed and wouldn't reopen till after our train time. I spent most of the night awake worrying, Beans just rolled with it and said if it meant getting a later train that's what we would do.
Arriving at the Check in gates it immediately recognised our booking from the cars registration plate and gave us our boarding pass. We were offered the 5:20am train when we had booked the 5:50am train which we obviously accepted. We stopped in the departure building and went to the customer services desk to ask about the API and got told as we had checked in it was now too late and we would have a longer wait at customs. We saw we could start boarding so got back in the car and drove towards customs, both English and French customs took minutes and we queued to get on the train, Beans was very excited as this was his first time driving onto the train.
We were placed on the top deck and soon departed, 35 minutes later we were in Calais and departing the train. We had a pleasant drive down through France stopping mid way to stretch our legs and get a Super Twister.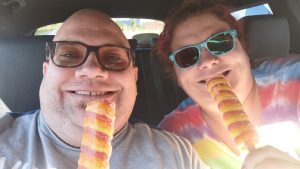 We arrived at Sequoia Lodge at 11:30 and went to the Golden Forest club check in as we had booked the Golden Forest Club rooms, and were pleased to be told our room was ready so we could take our bags straight to our room. We were given our cards and hotel fastpasses and went to the room. All the rooms in Sequoia Lodge are Bambi themed which is really nice. We dropped our bags off, had a quick freshen up, stop in the shop to buy a PhotoPass+ and lanyards and headed to the bus to the park. We were at the parks by 12:30, and decided we were going to do the Disneyland Park today.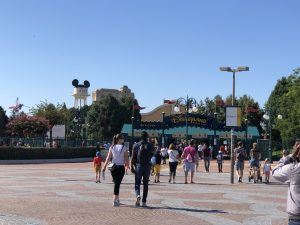 Our first stop was to see the dragon under the castle, after which we decided to use our hotel fastpasses on Peter Pans Flight, which was scheduled to close after today for refurbishment so we knew this was our only chance to get on it. We had a lovely flight over London and Neverland on our flighting boat then decided to head towards Phantom Manor which was closed when we last went to DLP. On route we found a PhotoPass photographer taking Jungle Rhythm pictures so we stopped and had some pictures taken.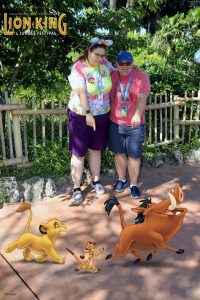 We had to wait around 30 minutes for Phantom Manor, thankfully there was a lot of shade as it was about 27 degrees Celsius, the wait was themed nicely to a run down garden. The stretching room was brilliant, and the walk to the doom buggy's is really well themed, it's like you are walking through the actual manor. The ride was really good, different to Walt Disney Worlds Haunted Mansion, which was nice, it would have been a shame if it were identical, there were bits that were the same but it had nice differences too.
On exiting the ride we saw a wait to meet Mickey Mouse so we joined the line, Beans went off and came back with Simba ears and Minnie hands for me. Was so exited to put the Minnie Hands on to meet Mickey, even though they were very warm.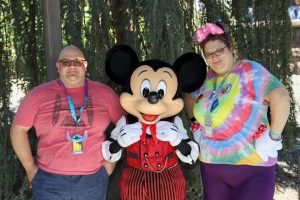 After meeting Mickey we decided it was time for a late lunch and headed to the Lucky Nugget, on asking what was gluten free I was shown a menu listing what food contained what allergens, going by the list I could only have fries and an ice cream sundae, that suited me as I wasn't very hungry.
After food we walked back to Fantasyland and headed to Blanche-Neige et les Sept Nains, namely Snow White and the Seven Dwarfs. On this ride you ride a mine train which takes you through the story of Snow White and how they defeated the Evil Queen, it's quite a dark ride so might scare small children. Next stop was the old faithful ride in all parks, It's a Small World. As usual the song got stuck in our heads which isn't a bad thing. We decided we were both tired after that and headed back to the hotel where we went to the bar for wings and cocktails. We both got glowtinis as we are on holiday after all.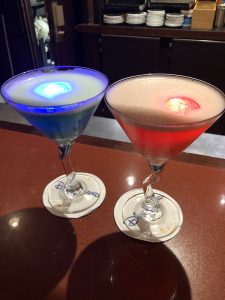 After showers and a small bit of unpacking we decided it was time for bed as we were both pretty tired.
TTFN, Titch