Not the longest of posts today but realised we haven't posted in a little while. I thought I would post about our experiences in the parks and shops for people on the plus side.
Having been to Walt Disney World 4 times, the last of which was June, and Disneyland Paris twice, the last of which being September this year I feel I am able to write about this subject pretty accurately.
I (Titch) am a UK size 24, and am 5'10" tall, Beans is a men's XXL and 5'8″, so neither of us are small, but we also aren't the biggest people to go to Disney or want Disney products.
America…..
Being the size we both are was not a problem at all, we fitted on all rides, including Pandora: Flight of Passage, I did have a cast member push the back to make sure it locked. I had no problems on any of the rollercoasters, can't speak for Beans about those as he doesn't go on them, he would have been fine too.
In the shops the clothes go up to 3XL easily for men and women, I brought some size 3XL leggings and they are actually a bit loose so could have easily brought the 2XL, didn't want to risk it and there was nowhere to try them on so I just grabbed the biggest size.
Beans found he fitted into the XL T-shirt's in a lot of the styles with the 2XL sizes swamping him.
You can buy up to XXL on shopdisney.com, so they have a bit of work to do to get all sizes stocked on there.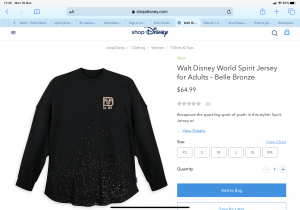 Now Paris/Europe…..
Ride wise in Disneyland Paris was also pretty good, I had read people say Crushes Coaster was a no go for plus size, I tried it and was fine. Cars Quattro Rally was closed for its refurbishment so couldn't try that. RC Coaster was the first ride in Studios that I found I had an issue. I couldn't get the harness to lock down so was moved out of the row I was in originally and moved to a blue seat in the back row which is designed for bigger people. They only have one of these seats and it would be good if you could find this out before having to do the move of shame as it's moving people from other seats to swap with you.
Hyperspace Mountain was a slight squeeze for my bum, found I sat more on the seat than in it, but it was fine, I was strapped in safe and sound.
Now clothes shopping, pretty much everywhere we went the biggest size was XL, we only saw a small handful of items in XXL so us larger people has to go without which when they release new things like the Spirit Jerseys is a big upset. I have two spirit jerseys that are XXL so only needed one size bigger.
Shopdisney.co.uk again in all of their clothing only go up to XL so really made to feel excluded from the Disney love. If America can do it why can't Europe.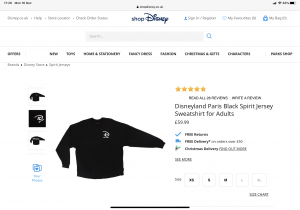 That's it from me, my little moan is out there, if anyone has any plus sized related questions feel free to ask.
TTFN, Titch