Day 3 had arrived which meant our last morning in the world of magic before travelling home. We had a rough plan of where we wanted to go and what we wanted to do, and we basically stuck to it.
After breakfast in the Club lounge we walked around the lake and through Disney Village which was so much easier security wise, we didn't queue at all. We got to Disneyland Park just as it opened for EMH, we stopped at Plaza East Boutique where we got Beans some Marvel Mickey ears, I can't be the only one wearing them after all.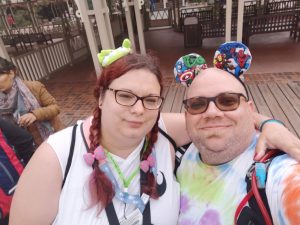 We had decided to head left once down Main Street and head to Frontierland and Big Thunder Mountain. Again Beans sat out and I joined the queue which was posted as 15 minutes. I had decided to try and film it on the GoPro so had that attached with a chest harness. My mine train came into the station and I switched the GoPro on, I was very excited as I got to go near the front. We chugged around the track, I was pleased to remember where the camera was so had my arms up ready.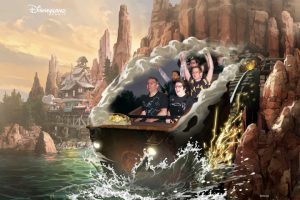 I met Beans and we went down to Thunder Mesa and got on Molly Brown for a relaxing boat ride around Frontierland. The settings around the boat ride are really well done, with barking dogs, moose and a geyser.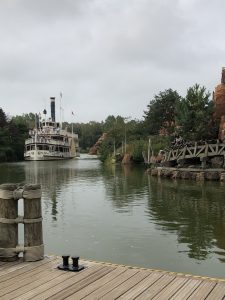 On getting off we headed had a walk around Frontierland to admire the Halloween decorations that were starting to go up in the park. OuR next planned ride Pirates of the Caribbean which sadly was closed due to a breakdown so we decided to head towards Discoveryland. Once there we headed to Star Tours, where we used out hotel fastpasses, we didn't really need to use them for this but thought we weren't going on anything else that needed them so we might as well use them.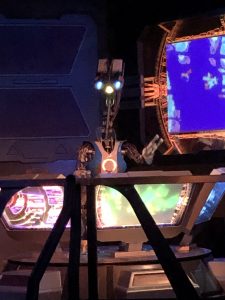 We decided our final ride would be Buzz Lightyear Laser Blast as Beans wanted to try and get a better score than yesterday. We didn't have so much stopping and starting this time which was good, Beans did get a better score, mine didn't register.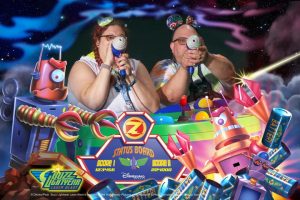 It was now nearly 12 noon so we headed out the parks, we had planned to go up in the balloon in Disney Village but sadly that too was closed. We walked the long way round the lake past Newport Bay to Sequoia Lodge and went to the car ready to set off.
The journey back to Le Shuttle was pretty uneventful, we had a few wrong turns along the way, especially when the sat nav didn't register a road we were on. We got to Le Shuttle in good time and soon boarded the train to bring us back across the tunnel. It always amuses me that you arrive in the UK before your departure time in France due to the hour time difference.
TTFN, Titch