Due to how we had booked our travel this was our only full day at Disneyland Paris and boy did we want to make the most of it. I say we, Beans was expecting some kind of break in the day but he had obviously forgotten who he was with! Oh and be warned this will be a long one.
The alarm was set for 6am which when it went off I agreed it could be snoozed, to once but twice, then it was get up and get ready time. After getting dressed it was a sort out of the park bags, and for me which ears I was taking. Thankfully I had two different ear holders which attached to my bag so I could take multiple options as obviously a girl can never have too many ears.
We got to breakfast about 7:30, due to being booked into a Golden Forest Club room we had a separate area to go for breakfast as breakfast in included, we checked in at the Golden Forest desk and were shown the breakfast selections and shown to a table. There were plenty of options to choose from, scrambled or boiled eggs, both hard and soft boiled, bacon, sausages, beans, continental, cereal, cold meats and cheese to name just a bit of the selection. There was also apple, orange or grapefruit juice, along with the usual hot drinks. After breakfast we headed outside to catch the shuttle bus to the Parks and Disney Village.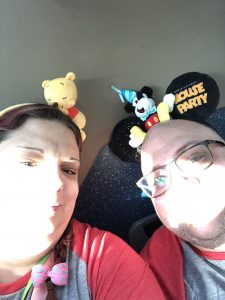 Due to being Disney hotel guests we got Extra Magic Hours (EMH) so we're allowed into the parks at 8:30am while the parks don't open to those not at Disney hotels until 10am. We had decided on Walt Disney Studios Park to start the day and we got there just as they started letting people in. Our first stop was a ride that was closed last year and always has long wait times which is Crush's coaster, after some deliberation Beans decided he wasn't going to go on, I went in the single rider queue, the main queue was already at 40 minutes. After waiting around 10 minutes I was shown over to a shell to take my seat. I was intrigued to see two people sat facing forwards and two backwards, I was one of the backwards facing people. Now I was in for a shock as I didn't know what to expect, I definitely didn't expect a rollercoaster mostly in the dark where the ride vehicle rotates, I was very glad I had left my bag with Beans.
Our next stop was Ratatouille: The Adventure, having done it before we went for the single rider option, which was showing as having a five minute wait. We got put on ride cars behind each other and donned our 3D glasses. I love the fact you are made to feel mouse sized and the carts go on slightly different paths to each other as you go around the restaurant, in fridges, through skirting boards and walls to end up at The restaurant run by Remi.
We then walked to The Twilight Zone Tower of Terror but the wait was 45 minutes, I said to Beans that wasn't fair on him as he wouldn't ride it so we headed to Toy Story Land and I went on Toy Soldiers Parachute drop. While you go up high and it drops it's not an intense drop, and the views of the park and surrounding area are amazing from the top. After that it was RC Racer time, again only I was to ride it, the single rider line hadn't been opened up at this point. While queuing 9:30 passed which is the time EMH are shown to be until and I saw people had started getting fastpasses for the rides that offered it. Not having my phone as Beans again was being my bag carrier I couldn't let Beans know to try and get Tower of Terror fastpasses. On being loaded into the RC car I found being tall and on the larger side I couldn't quite get the restraining clip to do up, on seeing this the cast members got myself and the person next to me to swap with people in the back row where they have a blue chair which is clearly used for these kind of situations. The clip done up straight away and we were off, for those that have rode the old fashioned swinging pirate ships this is a bit what RC Racer is like, you slowly go higher each turn, the drop is just past vertical when you get to the highest one, so quite exhilarating.
Being on quite a high from RC I suggested we try to get fastpasses for Tower of Terror, when we got to the kiosks the wait time was already up to 11:30 return times, Beans suggested I wait the 45 minutes and he would either sit and wait or maybe do Ratatouille again so I agreed. I wasn't happy with it just being me that got to go on rides as we were there for both of us not just me. After about 30 minutes of queuing Beans messaged to say he had done Ratatouille twice, again both as single ride, and wanted to know how I was doing. I said I was still queuing and suggested he might like to go to Minnie Loves Paris the Minnie Mouse meet and great. Finally my turn had come and into the elevator I walked and took my seat. The theming of this ride is amazing, really good projections and the drops, AMAZING. There are soon to be changes these to 3 different stories with different drop patterns, cannot wait to try them out.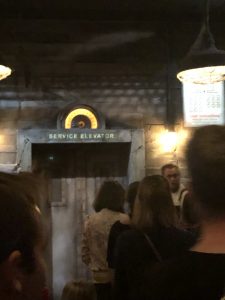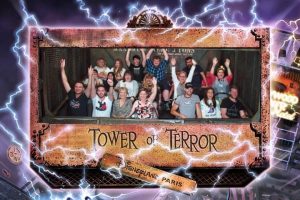 I came off and found out Beans was still queuing for Minnie Mouse so I joined him. In total the wait to see Minnie was about 75 minutes from when Beans started queuing, and unlike some of the meet and greats at Studios you could just queue up you didn't have to go on an app called Lineberty to join a virtual queue. Minnie looked fabulous all decked out in her Parisian outfit.

After meeting Minnie we headed our of Studios, via the Pandora shop obviously!, and headed into Disneyland Park as I was desperate to meet Tic et Tac, or for us non-France people Chip and Dale. There were no PhotoPass photographers here but the cast members were happy to take pictures using your camera or phones. Chip and Dale were in a proper naughty mood and I was laughing at their antics while queuing. When it got to our turn we had our pictures taken with the cast member using my phone, on going to get my phone back Dale had other ideas and took the phone off the cast member. He then proceeded to take a selfie video while the second cast member was chasing him around telling him to give the phone back. This has to be my favourite bit of video ever.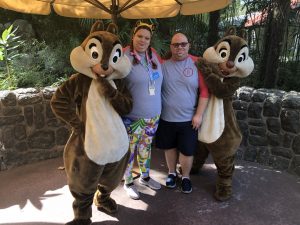 On getting the phone back we then went and joined the queue to meet Winnie The Pooh. I had on a headband that had a sleeping Pooh Bear on it and Pooh loved it. My headband got kissed.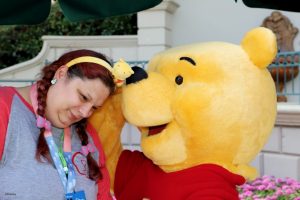 We then headed into The Hub and found a spot facing the castle between two raised areas ready to watch Jungle Jive. We got there about 40 minutes before the show and we could not have got a better spot, we could clearly see the floats and all the characters, and when Goofy led dancers down from the castle we had prime viewing. The show was outstanding, better than the Princess and Pirates show we saw last year. The costumes and floats were so well themed, it really was enchanting.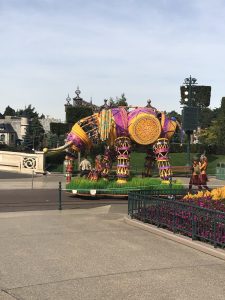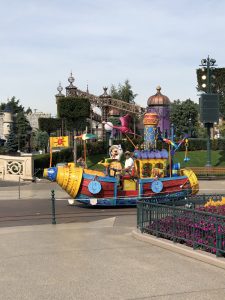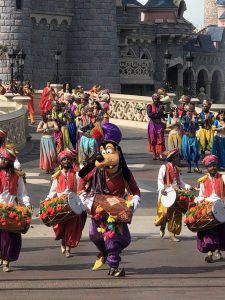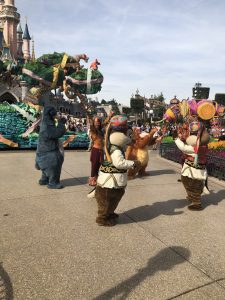 Both feeling quite hungry now we decided to go to Cafe Hyperion where I was bad and went with the non gluten free option. Gluten free at Disneyland Paris needs improving, and a one off bad lunch is generally something I can get away with. Both Beans and I had a BB8 meal which had a burger that had BB8 toasted into the top, I had it with the BB8 desert which was a kind of cake filled with strawberry soft cream.
Once refreshed from eating we used went on Buzz Lightyear Laser Blast, which kept stopping and we both found it didn't seem to register our scores correctly. Beans likes to read up in advance where the big points can be found and he didn't make it very far up the scoreboard which is unusual. The ride will be closing from January to July for refurbishment so hopefully it'll be working as it should once completed. Even with its current faults we both still enjoyed it.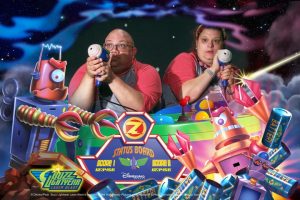 Having not used our hotel fastpasses yet we decided now was the time to do it, I headed off to Star Wars Hyperspace Mountain and Beans headed to Star Tours. Hyperspace Mountain again being a rollercoaster was a no no for Beans. This is again in the dark, hurling you around loops and upside down all with Star Wars scenes spaced through the ride.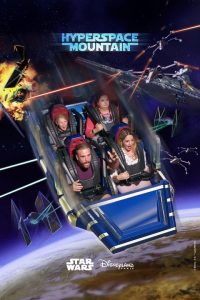 We met up at Cafe Hyperion and headed to find a spot for the daily parade Stars On Parade. Beans was feeling a bit grumpy at this point having clearly worked out I had no break time planned in so he sat back out the way while I watched and filmed the parade on our GoPro. While watching I was again filled with the magic that only Disney can supply, all the floats were well designed, the characters looked fantastic and the dancers were super impressive. Having collected Beans from his seat on the ground we headed up to It's a Small World. I love the whole aspect of this ride, sitting in a boat while you gently float around seeing different aspects of each country represented in brilliantly and so well done.
We came off and I suggested a ride that is technically a rollercoaster but thought it would work for Beans as well as me, and we hadn't done it before. That ride was Casey Jr – Le Petit Train du Cirque, yes that right the train from Dumbo. Beans actually asked the cast member is we could sit at the back, where you face backwards and they let us. This little train is great for all ages and was a nice little ride. We then went to Le Pays des Contes de Fees which is a boat ride around miniature scenes from different Disney films.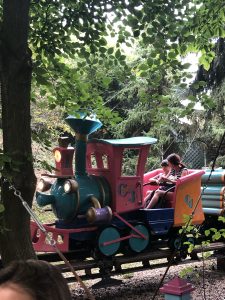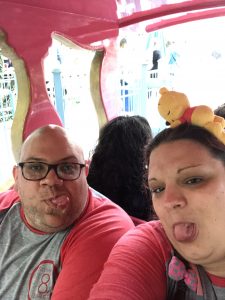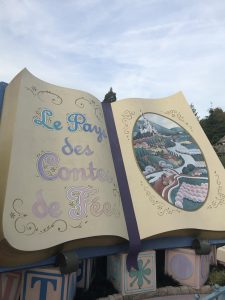 It was now bout 7pm and we headed to Casey's Corner hoping to get a table and some food and wait for the fireworks and nighttime show which started at 8:30. We were unlucky though, there were no tables free. We found a space on the wall and prepared to wait for the show. Beans went off to get a drink, only to find most of the sellers were only taking cash so he then went to find a cash point. Just in front of where we were waiting were two sellers with carts selling soft drinks and champagne. Beans queued up at the one closed to us only for him to suddenly pack up and leave. This made Beans very grumpy, and he came back to where I was stood in a bit of a grump. I took the cash from him and joined the other queue. While queuing I saw a seller selling ice creams and drinks on the other side of Main Street so I left the queue and went over only to be told they had just served their last person and were closed, so it was back to the original queue. While not huge it took over 20 minutes to get served so I got Beans a coke and myself a well deserved glass of champagne.
8:30 arrived and it went dark, and The Spectacularly Sparkly Disney Illuminations Show began. I don't think I can describe how outstanding amazing this show is, there are projections on the castle and fireworks along with music. It really takes your breath away with how good it is.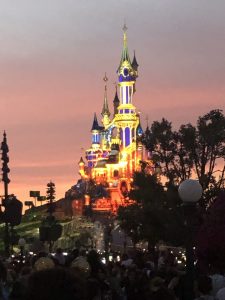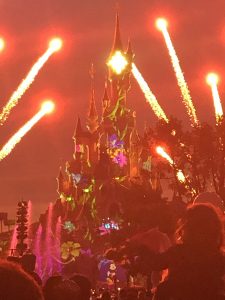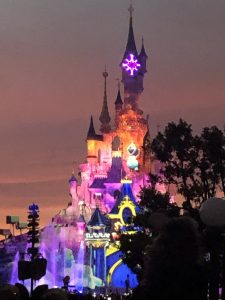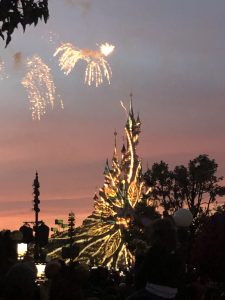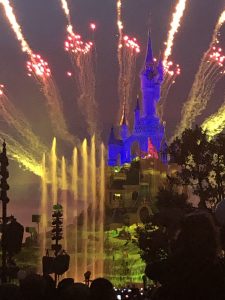 Once finished and as the park had officially closed at the start of the show it was time for the mass exodus from the park and to the shuttle buses. We decided to walk back to the hotel which from leaving the park took about 15 minutes. You walk through Disney Village then around the lake, it's a really pleasant walk and it avoided the crowds which was fab. We stopped at the hotel bar to order some chicken wings as an easy tea which we took back to the room to eat before crashing out.
TTFN, Titch