Just to show this blog isn't just about Walt Disney World in Florida it's time to add Disneyland Paris into the mix and the holiday we haven't yet mentioned.
Having returned from WDW at the end of June both Beans and I were hit massively with the Disney blues, more so than we have ever had them before. We already have a proposed time for our next WDW trip which will be in 2021 but we both felt we needed a Disney fix sooner than that, and by sooner I mean a lot sooner. We only have 4 days left of the countdown.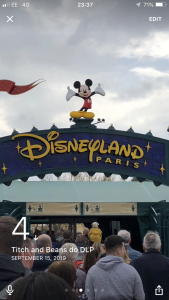 Beans decided to look on the Disneyland Paris (DLP) website without me knowing as I was working away, the first I knew about it was when I got a message suggesting DLP for our wedding anniversary which is 15th September. Obviously I agreed, because I so need to return to the magic Disney provides.
We are staying at Sequoia Lodge in one of the Golden Forest Club rooms, which includes a hot breakfast and afternoon snacks and personalised check in. We are getting the car train across the channel tunnel, I've only ever done it on a coach so will be a different experience. Beans is looking forward to the drive through France, we've just gone through and checked we have everything required for driving in France.
Going to go now and do a little 4 days to go dance, and make sure I have all my Minnie ears. TTFN, Titch