Hurricane season has officially arrived at the most magical place in the world with Hurricane Dorian soon to blow through.
Dorian passed through the Bahamas as a category 5 Hurricane with winds above 185mph, and is due to hit Florida as a category 3 Hurricane. MCO has closed and Disney has early park hours in preparation to ride out the storm. Thankfully Disney is one of the safest places to ride out a Hurricane, preparation around the parks and hotels has been happening for the last few days, with signs tied up, lights and bins secured and scrims around work removed for easy passage of the wind.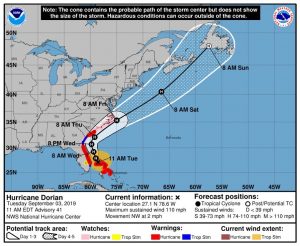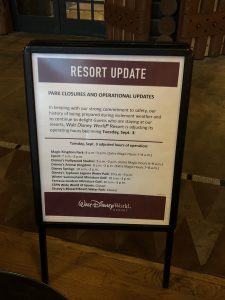 Beans and I know all about Hurricanes at Disney and that is in part why we chose to go in June this year for Beans birthday rather than September. In 2017 we weren't so lucky, we had booked a 2 weeks stay at Caribbean Beach flying out with Virgin on 11th September. Hurricane Irma had other ideas and closed MCO and Walt Disney World on 11th September. Thankfully we had been watching the updates from the National Hurricane Centre and Virgins flight updates and when it looked like flights would be cancelled we phoned Disney and were able to move our flights to the next available flight which was on 13th. Sadly Disney has no availability to move our whole holiday back two days so we had to get a refund for 2 nights.
Our car hire wasn't so easy to rearrange, we had booked a car with Alamo through Expedia and they couldn't just change the booking day, all they could do was refund and rebook, however the refund would take 7-10 days to come back to us. We managed to make a new booking elsewhere which we didn't have to pay for till collection which worked out better if the unlikely event of having to cancel the holiday fully happened.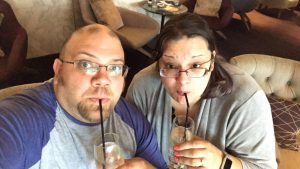 On our way into MCO we could see trees and masses of water out of the plane window but when we arrived at Disney you could hardly tell that a Hurricane had hit. They are very quick with their clean up, all we saw was a few odd branches that still needed picking up. For the first few days after the hurricane the humidity was non-existent, it was lovely, and the parks were still pretty quiet due to people avoiding the area.
The Atlantic Hurricane season runs from 1st June to 30th November with the most storms registered in September. Irma began life as a westward moving tropical wave which soon turned into a tropical depression west southwest of Sao Vincent, Cape Verde Islands on 30th August. Within 6 hours she became Tropical Storm Irma and on 31st August became Hurricane Irma. 24 hours later she became a major hurricane. Irma peaked with wind speeds of 115mph, then fluctuated, then strengthened again on 4th September to a category 4 Hurricane. On 5th September she became a category 5 Hurricane with winds of 180mph. After causing mass damage in the Caribbean Islands she made land in Southern Florida on 10th September, then moved north to Georgia where she weakened to lose tropical characteristics on 12th September. Irma finally dissipated over Missouri.
TTFN, Titch