June 24th was a day with plans to conquer, and in terms of conquering it meant conquering the 3 main mountains at Walt Disney World. These mountains all reside in Magic Kingdom and are all very different to each other.
On route to mountain number one we stopped at Sunshine Tree Terrace for refreshments as it was rather hot. I went for the FOMOsa, a sparkling apple cider served with DOLE orange soft-serve, Beans went for a coke float, Coca Cola topped with DOLE orange and vanilla soft-serve.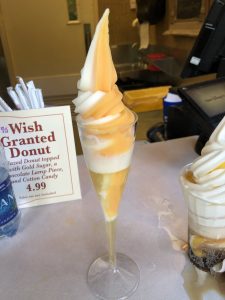 Big Thunder Mountain was the first stop on my mountain list, I had managed to get FastPasses for each mountain so was very happy. Beans doesn't do rides that have drops so he was sitting out the mountain fun. The queue to the ride took about 15 minutes which wasn't too bad, it was blazing sunshine so was glad I had the FP.
Second mountain of the day was next door at Splash Mountain. The theming for this ride is amazing, you really get to feel like you are in the Br'er animal story. Beans got a great video of me coming down the drop as he was stood on the bridge that overlooks it. I was sat at the back and was lucky not to get very wet.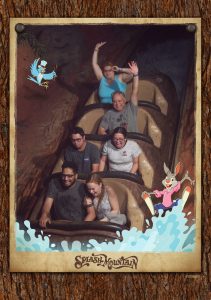 Next stop was in Liberty Square for a ride that Beans would happily do with me, Haunted Mansion. We used one of the free FastPasses we got from the DVC showcase so we didn't have to join the main queue. It was still pretty busy and we had to wait for the door to open and close a number of times before we were admitted entry to the mansion. The 999 ghosts were on their usual form, we escaped without becoming ghost 1000.
My final mountain was Space mountain, even with the FastPass it took over 30 minutes to get onto the ride. I'd forgotten what it was like to race around the track in pitch black. There was a lot of screaming from other ride cars. I enjoyed every minute of it.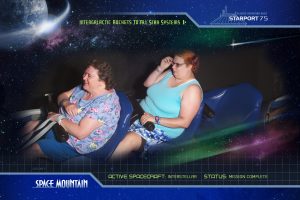 By this time we were ready for food and having looked on My Disney Experience at mobile ordering we decided on Cosmic Rays Starlight Cafe. We got seats next to the window overlooking the castle so got a fabulous view of Happily Ever After, sadly due to the reflection from the windows we were unable to get any pictures of it. We both said if it were us we would have dimmed the lights in the restaurant and piped the music in so it could be seem and heard better. I ordered the celebration Mickey sipper for my drink on the mobile ordering and he is adorable.
After a quick stop in the Emporium we headed out the park and joined the queue for the Ferry Boat back across the Seven Seas Lagoon.
TTFN, Titch